Ways of Thinking - Section 3: The Symbolic Structuring of Social Life
2016-17
Archived
This list relates to the 2016-17 which ended on 31/07/2017
This list has been archived
WEEK 4: SEEING THE WORLD IN ANTHROPOLOGICAL PERSPECTIVE

11 items

Human beings in all cultures order their social worlds by classifying things on the basis of some perceived similarity and difference. A shared quality or feature among things is often used to constitute a class, which is contrasted with other classes of different things. We thus attempt to bring order to the world around us. These systems of classes help us in the way we operate in the world, talk about the world, and pass on knowledge to others about the world. What is striking to the anthropologist, as well as to the casual traveller to other cultures, is that the way humans classify the world around them differs from one place to the next. When confronted by different ways of ordering the world, and acting upon it, we can often experience unease and confusion, sometimes even repugnance and disgust. For example, what people in other cultures eat is often an area that excites such responses, and their habits are compared to the types of things we eat and think of as 'proper food'. Anthropologists have examined various systems of such 'cultural classification', and have tried to make sense of why these differences arise and what their social consequences are. Indeed, these local features of difference and similarity are often related within the same society to a whole range of seemingly unconnected cultural conceptions and ways of thinking about and acting upon the world. We will examine in the course of these lectures anthropological approaches to ways of dividing up or classifying the world in a variety of different cultural settings around the globe.

Topic 1. Food Taboos, Pollution and Prohibition

8 items

Chapter (Digitised copy available via Tutorials/Essays reading list). See also below, the abridged version in W Lessa and E Vogt (eds) Reader in Comparative Religion 1979.

The traveller-gypsies - Okely, Judith 1983

Book Chapter 6 (Digitised copy available via Tutorials/Essays reading list)

WEEK 5: THE CONCEPTS OF TIME, SPACE AND COLOUR

31 items

A range of what we often like to think of as 'taken-­‐for-­‐granted' or 'natural' concepts are the foci of investigation in this series of lectures. We will examine how time, space and colour are viewed in different cultural settings across the world, and will see how social anthropologists have come to explain similarities and differences in cross-­‐cultural perspective. We will ask questions about how representations of time, space and colour vary or not from one culture to another. Are these concepts universal to all cultures, or are they wholly relative to each society in which they are found? How do people in different cultures understand time, space and colour in terms that are meaningful to them? What are the social and cultural consequences of such ways of understanding? In the process of this examination, we will confront our own as well as other people's views on this set of selected topics.
All rights reserved ©
Profile Required
Reading intentions and notes are stored against your user profile. Please create a profile to use this feature.
My notes
You must be logged in to add a note
What are item notes?
You can use item notes to make personal notes on any of your reading items. Notes are private to you and will not be shown to other users.
You can review your item notes from the list, the item page or from your profile page.
---
How do I create an item note?
To make notes, first you must be logged in. Once logged in, simply click Add note? next to the list item you wish to make notes on. You can also make notes at the bottom of every item's detail page.
Your note will be saved automatically as you type.
Have you read this?
You must be logged in to set a reading intention
What are reading intentions?
Setting up reading intentions help you organise your course reading. It makes it easy to scan through your lists and keep track of progress. Here's an example of what they look like: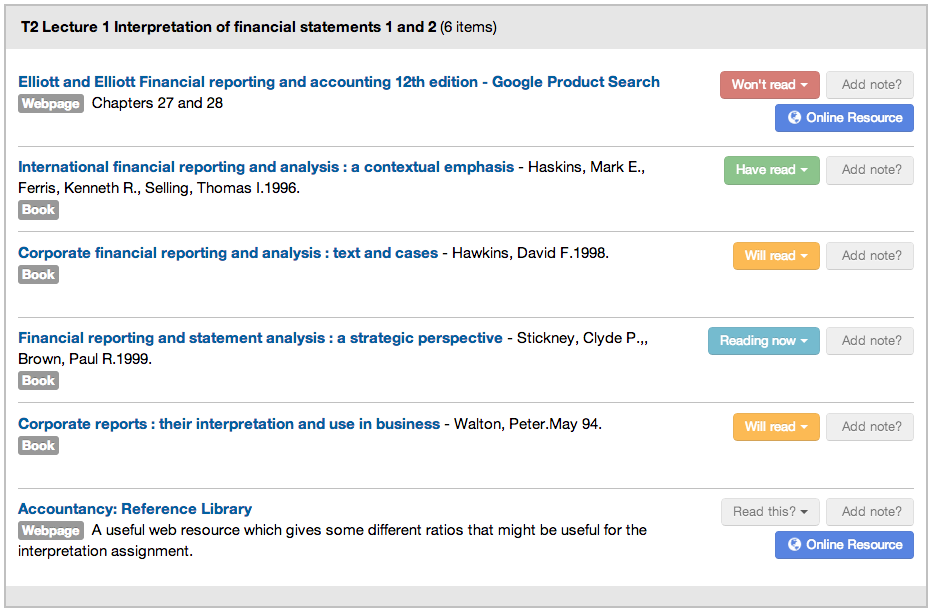 Your reading intentions are also stored in your profile for future reference.
---
How do I set a reading intention
To set a reading intention, first you must be logged in. Once logged in, click Read this? next to the list item you wish to set a reading intention for.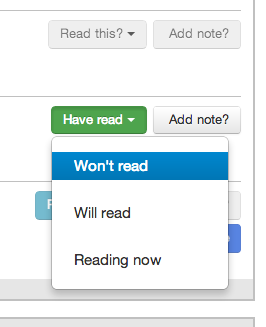 You can also set the reading intention from every item's detail page.