The Contemporary Canon: Why Books Sell
2017-18
Archived
This list relates to the 2017-18 which ended on 18/08/2018
This list has been archived
Case Study Set Texts

5 items

Week 1: Introduction

2 items

See the module booklet for further seminar preparation requirement Prof. Margaret-Anne Hutton

Week 2: Canon formation

13 items

Dr Michael White

Seminar Preparation

7 items

Canon - John Guillory

Chapter (In Critical Terms for Literary Study, ed. Frank Lentricchia and Thomas McLaughlin)

Additional Reading

6 items

On Literary Prizes and Awards:

Week 3: Case Study 1 - Helene Hegemann, Axolotl Roadkill

28 items

Please ensure that you have read the text in advance of the seminar. For those who read German, I have given the details of the German edition below. If it's of interest, Hegemann also released a film of the novel in 2017, which is on DVD as of December 2017, although this is not yet available in a version with English subtitles.

Hegemann published Axolotl Roadkill in January 2010 to rave reviews. It wasn't her literary debut, but its treatment of a troubled young teenage protagonist losing herself in Berlin's hedonistic club culture immediately resonated. The press reception drew parallels to Hegemann herself, as a new iteration of the so-called literary 'Fräuleinwunder' (meaning 'girl wonder(s)') around the millenium, in which the works of young women writers were marketed and received in terms that highlighted the writers' gender, their youth, and often their appearance. Hegemann's own gender, youth and mental health problems were (and remain) at the centre of the book's reception.

One month later, Deef Pirmasens exposed whole sections of the novel that had been lifted from Airen's novel Strobo, as well as other literary 'borrowings'. A plagiarism scandal erupted and the author was attacked for her use of other people's material without acknowledgement. The scandal exposed the importance of authenticity for the initial reception of the novel, brought it to international attention, and cemented its position as one of the most prominent works of German-language fiction of the early twenty-first century.

I recommend familiarising yourself with some of the press coverage below, both German and international, particularly as there are limited works of secondary literature on Hegemann herself. You might also look at the 'Fräuleinwunder' as a literary market phenomenon and at some work on plagiarism and authenticity. We will consider these questions in the seminar.

Axolotl Overkill - dir. Helene Hegemann 2017 (dvd)

Audio-visual document Optional Note: German subtitles only

Articles on the Plagiarism Controversy

11 items

I have included articles in the English-speaking press that picked up on this controversy, and also the German articles from the furore. Don't worry about reading the German if you're not able to - the British and American press picks up on many of the most important themes. Articles below are arranged in date order to give a sense of the unfolding of the debate.

An meine Kritiker - Helene Hegemann 29 Apr. 2010

Article Optional Hegemann's article in April on the controversy. In German.

Secondary Literature on Hegemann

6 items

Much of the literature on Hegemann is in German, so for those of you who are conversant in German, you can use either the library catalogue's journal article search function, Google Scholar, or the catalogue of the Staatsbibliothek to find useful material.

Transnationalism in contemporary German-language literature - Elisabeth Herrmann 2015 (electronic book)

Book Read: Hester Baer, 'Precarious Sexualities, Neoliberalism, and the Pop-Feminist Novel: Charlotte Roche's Feuchtgebiete and Helene Hegemann's Axolotl Roadkill as Transnational Texts', pp. 162-86

Secondary Literature on the so-called 'Fräuleinwunder'

3 items

Secondary Literature on Plagiarism and Authenticity

4 items

Week 4: Concepts of the Contemporary

24 items

Prof. Margaret-Anne Hutton

Seminar Preparation

7 items

What is an apparatus?: and other essays - Giorgio Agamben, David Kishik, Stefan Pedatella 2009

Book Essential Essay: 'What is the Contemporary?'. You can also track this down online via Google search.

Additional Reading

17 items

Week 5: Case Study 2

11 items

Dr Saaed Talajooy: Farkhondeh Aghaie, From the Devil, Learned and Burned: A Work of Fiction based on an incredible true story

In this session we will examine the way a contemporary novel becomes a best seller in its national context by creating a space of political inquiry around the most pressing questions of contemporary life: economic deprivation, gender, ethnicity, religious fundamentalism, marginality and belonging. The 'real story element,' which triggers the readers' voyeuristic desires and diary style of narration creates loose a picaresque plot that engages the reader with the narrative identity of the protagonist. We will also explore the process of canon formation in contemporary Iran, paying particular attention to socio-political functions of literature as well as the relationship between the past and the present and intercultural literary exchange as important sources for the production of the contemporary canon.

Farkhondeh Aqhaie is a leading Iranian novelist whose works are characterized by a high degree of verisimilitude and a detailed reflection of her protagonists' lived experience in a modern city. She began writing in the 1980s and with the intensification of women rights movements in 1990s Iran became a leading voice in Persian fiction. We examine the politics of national belonging, womanhood and ethnicity in pre- and post-revolution Iran and explore how inter-textual structural bartering and playing with the idea of reality to challenge contemporary cultural debates, lead to the critical and popular appeal of a work, the very success of which offers interesting questions about cultural production and reception.

Seminar Preparation

1 item

Read the following novel and be ready for discussing the reasons why you think it has become important in its cultural context and if it is going to remain important:

Additional Reading

9 items

Week 6: World Literature

19 items

Dr Silvia Caserta

Seminar Preparation

6 items

Please read and be prepared to engage critically with / give a short exposition of, the following short pieces (you should bring hard copies with you)

Be prepared to discuss the following issues and questions:

- What definition(s) would you give of 'world literature', both in itself and in relation to 'comparative literature'?

- How would you explain the choice of the term 'world': could you see it as opposed and/or alternative to what other term(s)?

- Why, do you think, has the term 'world literature' seen a renaissance in the 21st century?

- How useful do you find the concept as defined in the readings above, and can you think of alternative concepts that would work better?

- What might it mean to be for, or rather against, 'world literature'?

- How do the concepts of the canon, the contemporary and world literature fit together?

Additional Reading

13 items

Week 7: Case Study 3

34 items

Dr Silvia Caserta: Elena Ferrante, 'My Brilliant Friend: Childhood, Adolescence'

The Italian writer known under the pseudonym of Elena Ferrante has been a literary phenomenon on the international book scene, especially after the publication of her quartet of Neapolitan Novels translated by Ann Goldstein, namely My Brilliant Friend (2012), The Story of a New Name (2013), Those Who Leave and Those Who Stay (2014), and The Story of the Lost Child (2015). While the author has undoubtedly enjoyed great popularity and critical acclaim within Italy, her literary success abroad, and particularly in the English-speaking world, has been astounding.

In 2015, her "Neapolitan Quartet" books had sold 750 thousand copies in the U.S.A., 250 thousand in the U.K., and had been translated into 37 languages. In 2016, Time Magazine named Ferrante as one of the most influential people on the planet, while The New Yorker has defined her as "a genius" and "a titanic novelist". In 2017, HBO and Italian state broadcaster Rai have partnered to produce an international drama series based on the first novel My Brilliant Friend. Ferrante is certainly one of the few examples (together with male authors like Italo Calvino and Umberto Eco) of Italian writers who have managed to attract a mass American audience.

Ferrante's Neapolitan tetralogy is, in a way, deeply rooted in Italian history and society. The starting point and main background of the story is the poor Neapolitan neighborhood (the 'rione') in which the two girls protagonist are born and raised, which provides a specific look at the wider context of post-War Italy. At the same time, however, the story of the lifelong friendship between the two girls has made Ferrante's work appealing to the larger, global world. But there might, or perhaps there must, be other reasons behind such an astonishing literary success.

The author's mysterious identity seems to have particularly intrigued both readers and critics of her work. Caught in what has become the "Ferrante Fever", the author has chosen not to disclose her real identity, and her anonymous stance has sparked much debate on the role of the author in relation to the presumed autonomy of the work of art. While starting as a private stance, Ferrante's claimed anonymity has turned into a brand in the international publishing market, and has very likely contributed to reinforcing the audience's curiosity and fascination with both her figure and her literary work.

Seminar preparation

1 item

Please read My Brilliant Friend and familiarize yourself with the work of Ferrante (I would suggest you read for your own interest the whole quartet).


Read the online articles below around the questions of Ferrante's literary success, of her anonymous stance, and on the huge controversy sparked by the Italian journalist Claudio Gatti's attempt to uncover the author's real identity.

Please also come prepared to discuss the following questions/issues:

- What do you think are the reasons that make Ferrante's work somehow "universal", arguably gaining her a place in the contemporary world literature canon?

- What do you think are the aspects of the novel that resonate the most with a global audience?

- What are, in your opinion, the elements of the novel that would make it (or not) a work of World Literature?

- In what ways do you think the author's (assumed female) gender might have influenced her reception both in Italy and abroad?

- What might have been the role of the translation(s), and of the translator(s), in the worldwide success of Ferrante's work?

- To what extent has the debate around her real figure contributed, in a way paradoxically, to making her anonymous person so widely famous?

- How do you think might authorship, anonymity, and pseudonymity affect the afterlife of a literary work?

a) Ferrante in the press

19 items

1. On Ferrante's literary success:

2. On anonymity (and women's writing):

4. On Ferrante's book covers (and women's writing):

5. On the controversy around the attempt to disclose Ferrante's identity:

b) Ferrante's works

2 items

c) On Ferrante's work

3 items

d) On Anonymity, Women's Writing, and Contemporary/World Literature (in/and Ferrante's work)

4 items

e) Articles in Italian on The Brilliant Friend

3 items

Week 8: Case Study 4

18 items

Dr Katie Jones: Jasper fforde, The Eyre Affair

Jasper Fforde's fantasy thriller The Eyre Affair (2001) is the first volume in his bestselling Thursday Next series of literary crime novels. Set in 1980s Swindon in a parallel universe where the Crimean War never ended, and where canonical literature is the most popular form of mass entertainment, the novel follows the adventures of literary detective Thursday Next as she attempts to discover who has kidnapped the character of Jane Eyre from the first edition of Charlotte Brontë's novel. Using the conventions of a popular genre to engage with the enduring appeal and status of canonical literary fiction, Fforde raises questions about the nature of canonicity, the role of the reader, and the various forms of 'value' literature might hold in a late 20th and early 21st-century context. This session will engage with these and other key questions, including the status of the 'canon' in the 21st Century, its relevance to ordinary readers, and the inter-relations between 'high' and 'popular' forms of literature.

Seminar preparation

3 items

Please read The Eyre Affair and explore Jasper Fforde's website. You will find the suggested reading in the sections below helpful - alongside reading you have already done on notions of 'canonicity' and the literary 'classic' - in preparing the following points for discussion.

1. Close reading: To what extent does Fforde's novel reaffirm or subvert the notion of the literary canon via its playful engagement with canonical texts and authors? Please consider:

the text's presentation of the author (e.g. notions of authorial 'genius', intentions and authority) vs. the role of the reader in creating the work of literature. What are the various types of reader presented in the text, and what is their significance? What is the role of the implied/real reader of Fforde's novel?
the relationship of genre fiction (hard-boiled crime fiction; speculative fiction) to 'high' literature.
what vision of the 'canon' emerges from Fforde's text?
to what extent must the reader of The Eyre Affair be familiar with the canonical works referenced in order to 'get' the novel?

2. Broader context: who is this text for, and how would you situate it in the contemporary literary landscape?

what does Fforde's bestselling series and its marketing and reception tell us about contemporary reading habits?
what made the novel (and series) so popular? Could it be considered a contemporary classic, and why/why not?

Works by and about Fforde

6 items

The Thursday Next series

5 items

Engagement with the canon

5 items

Jane Eyre - Charlotte Brontë, Richard J. Dunn c2000

Book Any edition: it's well worth reading Jane Eyre if you haven't already!

Approaches to genre

3 items

Crime fiction - John Scaggs 2005 (electronic book)

Book Especially the chapter on 'hard-boiled' fiction.

Week 9: Case Study 5 - Sorokin, Day of the Oprichnik

17 items

Dr. Margarita Vaysman

Day of the Oprichnik - Vladimir Sorokin, trans. Jamey Gambrell 2012

Book New York: Farrar Straus Giroux, 2011 (Translation from Russian of Den' Oprichnika, Moscow: Zakharov, 2006)

Vladimir Sorokin's novel, Day of the Oprichnik, is set in Moscow in 2028. A wall has been erected between Russia and the West and Russian citizens have voluntarily burned their travel documents. 'Holy Rus' has been restored and state police monitors the morality and the loyalty of the Russian people. The novel describes a day in the life of an oprichnik Andrei Komiaga. Oprichniki were a brutal policing force that served a medieval Tsar Ivan the Terrible but they are very much at home in Sorokin's futurist Moscow. Their emblems in 2028, just as in medieval Moscow, are a head of a dog and a broom to signify their dog's loyalty to the Tsar and their duty to sweep away treason from Muscovy.

Anachronisms are central to Sorokin's poetics in a novel which many have read as a critique of contemporary (Putin's) Russia, its politics and anxieties. Sorokin's marriage of a futurist vision of Russia with historical detail from Muscovy of Ivan the Terrible and Stalinist Russia produces a disorienting text but also raises timeless questions about power and corruption, national identity and nationalism. Conflation of different temporal planes in the novel is mirrored in Sorokin's play with language in a text that borrows from medieval Russian and from modern writers such as Alexandr Solzhenitsyn and Tatyana Tolstaya.

Variously described in the press as a 'living classic' and a 'monster', Sorokin and his post-Soviet fiction polarise both the critics and the public today. Shortlisted for the prestigious international Man Booker Prize in 2013 and winner of the Russian Booker in 2001, Sorokin found himself on an obscenity trial in Russia for his novel Blue Lard (1999) in 2002. His brilliant literary stylisation has been branded mimicry and parasitism by many critics. As such, Sorokin's fiction and its reception are at the very heart of debates surrounding the contemporary Russian literary canon.

Seminar Preparation

15 items

Although most material about Sorokin will be in Russian, there are also plenty of online sources in English. Conduct an online search of blogs, news items and websites dedicated to Sorokin and come to the seminar prepared to discuss the following (general) questions on popular and critical reception of his work:

In your opinion, how do controversy and scandal shape literary reception? How would you describe Sorokin's international profile and how does it square with his reputation in Russia? What is the role played by the blogosphere as a virtual site for the discussion of contemporary fiction? Find out who sued Sorokin in 2002 and be prepared to speak about the significance of the space in Moscow chosen by his accusers to stage a protest against his work in the context of this trial.

Please also come prepared to discuss the topics and questions on Day of the Oprichnik listed below. You may find it helpful to note the page numbers of passages you found especially useful in addressing these questions to illustrate your points with examples from the texts.

* How are Russia and its relationship with the West and the East portrayed by Sorokin in Day of the Oprichnik? To what extent can the novel be read as a political satire of (contemporary) Russia?

* Sorokin's fiction is frequently accused of being pornographic. What is the role played by violence and obscenity in the artistic design of the novel? Do you find Sorokin's usage of violence excessive and gratuitous or artistically justified and necessary?

* How are the different temporal planes integrated in Day of the Oprichnik? In your opinion, why does Sorokin borrow from Russia's past to comment on its future?

* Discuss the significance of the narrative perspective in the novel.

* How are class structures and national economy imagined in Sorokin's depiction of Russia? Give examples from the text.

* Analyse the portrayal of the opposition to the Russian state in the novel.

* To what extent are Komiaga and the other oprichniki depicted as the custodians of public morals? Who defines and upholds societal and moral norms in the novel?

Additional reading

14 items

This is a list of works that you will find useful for general background reading. Not all of the works on this list are concerned with Vladimir Sorokin. You may find it helpful to consult some of these texts for surveys of (Russian) post-modernism, post-Soviet literature and its thematic preoccupations. The list is not intended to be exhaustive, and there are many other studies that you will find illuminating.
All rights reserved ©
Profile Required
Reading intentions and notes are stored against your user profile. Please create a profile to use this feature.
My notes
You must be logged in to add a note
What are item notes?
You can use item notes to make personal notes on any of your reading items. Notes are private to you and will not be shown to other users.
You can review your item notes from the list, the item page or from your profile page.
---
How do I create an item note?
To make notes, first you must be logged in. Once logged in, simply click Add note? next to the list item you wish to make notes on. You can also make notes at the bottom of every item's detail page.
Your note will be saved automatically as you type.
Have you read this?
You must be logged in to set a reading intention
What are reading intentions?
Setting up reading intentions help you organise your course reading. It makes it easy to scan through your lists and keep track of progress. Here's an example of what they look like: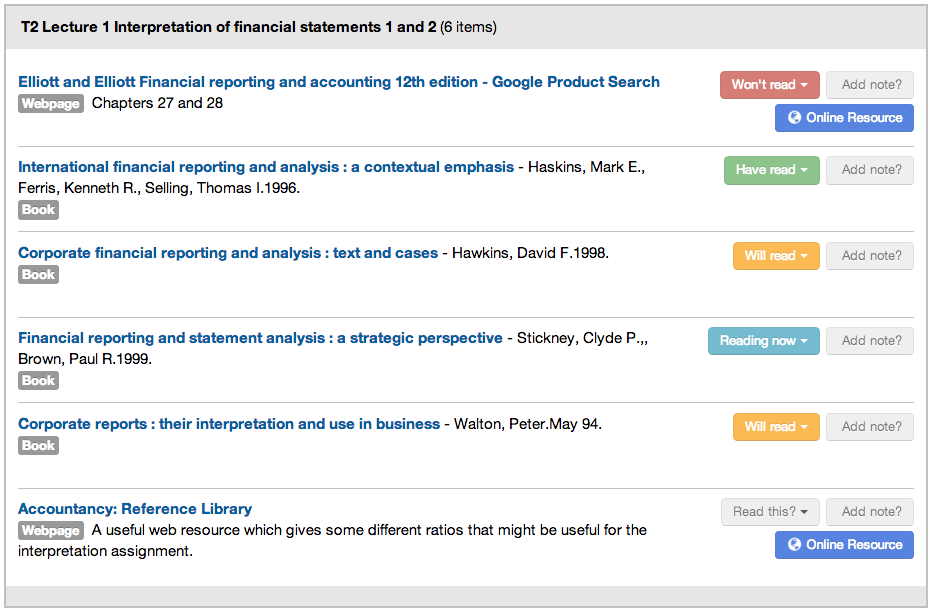 Your reading intentions are also stored in your profile for future reference.
---
How do I set a reading intention
To set a reading intention, first you must be logged in. Once logged in, click Read this? next to the list item you wish to set a reading intention for.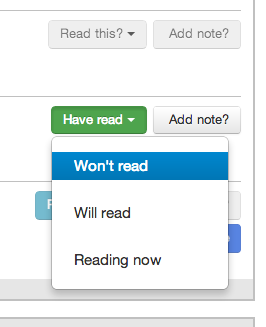 You can also set the reading intention from every item's detail page.