This list relates to the 2016-17 which ended on 31/07/2017
This is not a compulsory purchase as there are several copies available in the university and Classics libraries, but it is strongly recommended.

You should aim to have read through the following books by the end of the course. You might consider purchasing the two texts marked as Recommended.

Also very useful, but for dipping into:

WEEK 1: Introduction

6 items

The first seminar will introduce the themes and questions covered by the course. We will cover several very important ideas and debates, so it is essential that you prepare adequately. You must read all five texts below and be ready to discuss all the questions.

(i) What is slavery?

2 items

(ii) Two very different perspectives on Roman slavery

2 items

Read these two very different descriptions of slavery in the Roman world. Can they be reconciled with each other. Which is more convincing? On what basis would you choose between them?

(iii) Litigating about slaves

2 items

Justinian's Digest, Book 21 Chapter 1. [MMS : Reading for week 1]

Justinian's Digest, our single most important source for Roman law, was a massive compilation of the writings of the most eminent jurists, assembled on the orders of Justinian in the sixth century CE. Most of the jurists selected for excerption had been writing in the late second and early third centuries CE. These jurists were legal experts who were often called upon to interpret or resolve ambiguities in the law. In this case I have given you a chapter on the law of sale.

Much of the legal commentary concerns the sale of slaves. I want you to read this dense text (I won't pretend it's an easy read) with two lenses: first as a social historian, thinking about how it might shed light on the conditions of slavery in the Roman world. Try to identify 3-5 details that surprised you. Secondly, read it as a cultural historian, thinking about how this legal discourse 'constructs' the slave – and why this might matter. How do these jurists write about slaves? Are there any revealing preconceptions about the nature of slaves or slavery?

WEEK 2: Slavery in the city

16 items

(i) Questions to research in the secondary reading and Wiedemann's sourcebook:

What did slaves do in the city (try to map the full range of different roles, both in domestic service and in the urban economy)? What were their lives like (again try to get a sense of the full range of different experiences)? Were slaves better or worse off than the free poor?
Does it make sense to think of slaves as a single group? Are there similarities that outweigh the differences?

Texts for discussion

2 items

(1) The colloquia (Handout).
These colloquia ('conversations') are (probably) second- and third-century school texts. For more detail, see the introduction to Dickey, E., The Colloquia of the Hermeneumata Pseudodositheana, Volume 1 (Cambridge, 2012). Try reading these texts with two lenses again. (1) What do they tell us about 'real' masters and slaves. (2) What can we say about these as texts? How do they 'represent' or 'construct' slaves? Does it matter that they are schoolbooks? Might it tell us something about how young Romans learned how to be masters? This raises some more profound questions. How important is socialisation in creating and perpetuating a slave society. Might we have been complacent masters if we were brought up the same way?

(2) Seneca Letter 47 (Wiedemann no. 238) and Pliny Letters 1.4, 3.14, 5.19, 8.1 and 8.16 (Handout). These are important texts that we will be returning to several times in this course. Ask yourself (1) whether and how we could use these texts to write a social history of slavery. (2) what Seneca and Pliny might have been trying to achieve in writing these texts.

Other primary sources

1 item

Greek and Roman slavery - Thomas E. J. Wiedemann c1981

Book Texts no. 126-38 and 81-100. (NB these are text numbers, not page numbers)

Start with one or two of the broad surveys and then read a couple of the more detailed studies.

WEEK 3: Rural slavery

11 items

(i) Questions to research in the secondary reading and Wiedemann's sourcebook:

How many slaves were there in the countryside? What did they do? What were their lives like?
Was Roman Italy characterised by a 'slave mode of production'? If so, can we map its rise and fall?
Be prepared to discuss (i) the idea of 'the slave villa', (ii) the overseer/manager (vilicus) (iii) 'chained' slaves (vincti) and (iv) the ergastulum.

Start with the texts marked 'Essential' and then read a few of the others.

WEEK 4: Slave bodies

17 items

The goal of this class is to explore the idea that the vulnerability of one's body (both to corporal punishment and to sexual exploitation) was one of the defining aspects of the experience of slavery.

(i) Questions to research:

What restrictions did Roman law and/or convention place on the use of violence by those in authority and on sexual relations? How did the distinction between slave and free matter for these restrictions? On violence, research the use of whipping/beating, torture and crucifixion. On sexual relations, research the meaning of the two principal sexual crimes: adulterium and stuprum.
Did either Roman law or convention place any restrictions at all on how masters could treat their slaves?
In what contexts do Latin writers use the terms exoleti (literally, 'over-aged') and deliciae ('pets'/'darlings')? What should we make of the fact that these terms existed?

Texts for discussion

1 item

Read the selection of poems by Martial and Statius about deliciae. What can we say about the social status of these children, their experience, and the nature of their relationships with their masters? Was there a sexual component? On what basis can we decide?

Lex libitinaria from Puteoli (Handout)

Martial and Statius on deliciae ('pets'/'darlings') (Handout)

Reread the Digest chapter from a week 1 with a focus on what it reveals about punishment and sexual relations

Start with Harper and then move on to some of the others

WEEK 5: Slavery in fiction

16 items

Questions to research:

What do you think of Hopkins' and McKeown's arguments about the value of fictional texts to the study of slavery?
Can we use Plautus' comedies to write the history of Roman slavery? If so, how? Does it matter that they were (loosely) based on Greek originals?
What do these texts tell us about relations between masters and slaves – or about how a society of masters viewed those relations?
Do they reveal the anxieties of a society of masters?

Texts (on handout)

1 item

Plautus, Captives (Captivi)

Further reading on Plautine comedy (if you want to pursue this further)

4 items

WEEK 6: Independent Learning Week

5 items

A comparative perspective : Slavery in the American south

Comparative history is an important strategy for ancient historians, particularly in the study of topic such as slavery where the gaps in the evidence are massive. Studying better-documented slave societies can help us to develop new hypotheses, or at least to pose new questions.
There will be no meeting this week, but you are expected to read at least one of the texts listed below
Be prepared to summarise it and discuss any possible implications for our understanding of Roman slavery.

Questions to research:

How did individual masters (and the society of masters as a whole) keep so many slaves in a state of subjection? What was the relative importance of coercion and incentives?
How did Roman writers think they maintained control of their slaves?
One of the problems here is that there are so few surviving analyses of slavery by Roman authors. One option (which I have tried) is a more oblique approach which looks at how Roman writers used slavery to make sense of other relationships of subjection. Read Lavan 2011 and see what you think. You might then consider how slavery is imagined in some other text or author you have read before.

Primary sources (handout)

4 items

Pliny Letters 3.14 and Tacitus Annals on the SC Silanianum

Cicero On Duties (De Officiis) 2.21-6.

Herodotus 4.3 (an early Greek text but still useful to think with)

Reread the agricultural writers from Week 3 and the sources on violence from Week 4.

WEEK 8: Resistance

8 items

Questions to research:

How many slave revolts were there in Roman Italy (including Sicily) from the second century BCE to the third century CE?
Should we be surprised by how few there were? Why weren't there more revolts?
What other forms might slave resistance have taken, besides outright revolt?
How do Roman writers write about slave revolts? Do they represent them as abnormal or inevitable, as justified or criminal, as threating or doomed to failure?

Weapons of the weak: everyday forms of peasant resistance - James C. Scott 1985 (electronic book)

Book Preface, Chapter 1 and especially Chapter 2. This anthropological study of village societies in SE Asia is a classic and hugely influential study of resistance among subordinated groups. Read it and see whether it changes the way you think about slave resistance. NB The E-Book controls don't seem to display properly in Chrome or IE. You can change page by using the <<Prev Next>> buttons at the bottom of the page, beside the page number.

Then read some of the following:

5 items

WEEK 9: Manumission

18 items

(i) Questions to research:

How did manumission work?
How thoroughly were ex-slaves integrated into free society? Did free slaves automatically become Roman citizens? Did they have the same rights as other citizens? What happened to their children?
How common was manumission? Have we any idea what proportion of slaves were freed?
Why did masters free slaves? Was it a function of affection or self-interest? (Another way of putting this is to ask whether or not manumission was economically 'rational' for masters.)
How did Romans reconcile the notion of slavishness with the practice of enfranchising ex-slaves?

(ii) Texts for discussion

Cicero Letters to Friends Book 16 (Handout). The final volume of Cicero's Letters to Friends was devoted to letters of Cicero ('Tullius'), his brother Quintus and his son Marcus to Tiro, Cicero's slave and then freedman - and probably the editor of Cicero's letters. Read it for insight into relations between freedmen and their patrons. Is it 'one of the most important texts on slavery to have survived from the ancient world' (Beard)? For more discussion, see Beard and Gunderson below.

Start by reading McKeown and a few chapters of Mouritsen 2011 and then read at least two of the rest:

Then read at least two of the following:

15 items

Conquerors and slaves - Keith Hopkins 1978

Book Chapter 3 ('Between slavery and freedom: on freeing slaves at Delphi').

The freedman in the Roman world - Henrik Mouritsen 2011

Book Essential Chapters 1 ('Introduction') and 2 ('Macula servitutis: Slavery, freedom and manumission') – and as much of the rest as you like.

WEEK 10: Thinking about slavery

12 items

Questions to research:

Philosophers.

What was Aristotle's 'theory of natural slavery' and how much influence did it have on Roman thought and writing?
What other questions did slavery raise for Greek and Roman philosophers?

Jurists

What issues did slavery raise for Roman jurists?
How should we interpret Florentinus famous statement that slavery was 'contrary to the natural order' (contra naturam, Wiedemann no. 1) ?

Thinking with slavery

Slavery was evidently particularly 'good to think with' as metaphors and analogies drawn from the sphere of slavery pervade Latin literature. Choose one of the papers in the second section of the bibliography below and read it with an eye to how Romans turned to slavery for a conceptual model for thinking about other issues – and reflect on how the metaphors/analogies might illuminate their underlying beliefs about slavery itself.

To read:

Philosophers: Wiedemann nos. 2 (Aristotle on natural slavery), 238 (Seneca Letters 47, discussed in Week 2), 239 (Seneca On Benefits 17-28), 235 (Dio Chrysostom Oration 15 [On Slavery II])

Jurists: Wiedemann nos. 1 and 4-5

Scholars: Wiedemann 80 (Athenaeus)

Reading on philosphers and jurists

4 items

Reading on metaphors drawn from the domain of slavery

5 items

Read any one of these.

WEEK 11: Christians and slaves

11 items

Questions to research:

What role did slaves play in the early Christian church?
Did the spread of Christianity have any effect on practices of slavery in the Roman empire?
What did early Christian writers (from Paul to Augustine) say about the legitimacy of slavery? Was it compatible with Christian ethics?
Why are the metaphors of 'slave to Christ' and 'slave to God' so common in early Christian writing? What did they mean? Can our knowledge of how slavery was practised and experienced illuminate those metaphors? Conversely, can those metaphors enrich our understanding of how slavery was experienced?

Garnsey nos. B11 and Aug4 [Handout]

Consolidated bibliography

69 items

Bradley, K. R., 'Servus onerosus: Roman law and the troublesome slave', Slavery and Abolition 11 (1990): 135-57.

James, S., 'Slave-rape and female silence in Ovid's love poetry', Helios 24 (1986): 60-76.

Russell, K. D., 'Slavery as reality and metaphor in the non-Pauline New Testament books', Revue de l'Université d'Ottawa (1962): 439-69.
All rights reserved ©
Profile Required
Reading intentions and notes are stored against your user profile. Please create a profile to use this feature.
My notes
You must be logged in to add a note
What are item notes?
You can use item notes to make personal notes on any of your reading items. Notes are private to you and will not be shown to other users.
You can review your item notes from the list, the item page or from your profile page.
---
How do I create an item note?
To make notes, first you must be logged in. Once logged in, simply click Add note? next to the list item you wish to make notes on. You can also make notes at the bottom of every item's detail page.
Your note will be saved automatically as you type.
Have you read this?
You must be logged in to set a reading intention
What are reading intentions?
Setting up reading intentions help you organise your course reading. It makes it easy to scan through your lists and keep track of progress. Here's an example of what they look like: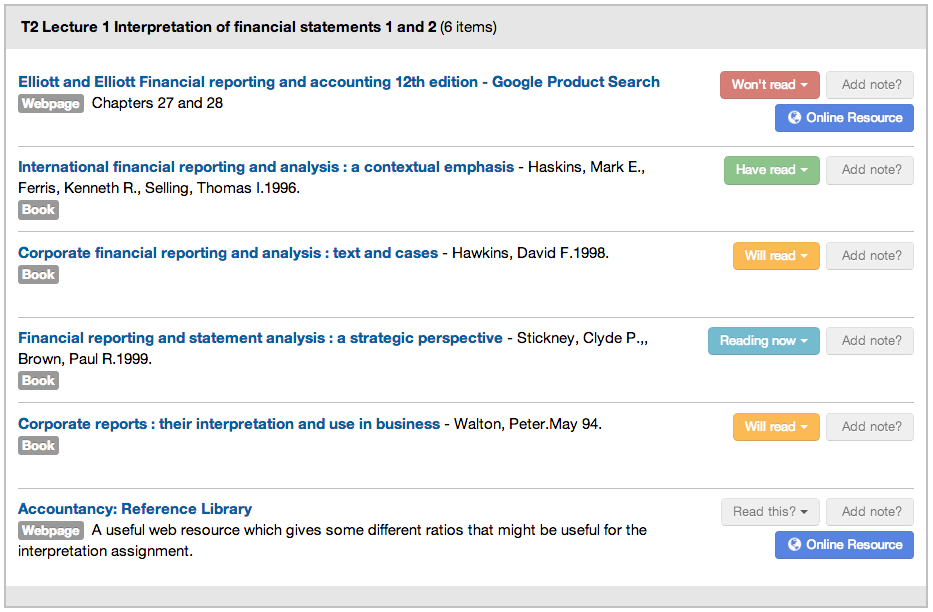 Your reading intentions are also stored in your profile for future reference.
---
How do I set a reading intention
To set a reading intention, first you must be logged in. Once logged in, click Read this? next to the list item you wish to set a reading intention for.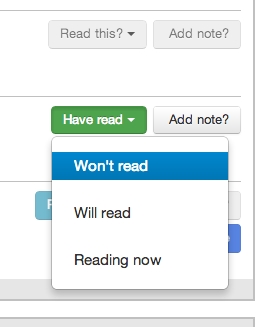 You can also set the reading intention from every item's detail page.