Generally Useful Introductory Reading

2 items

N.B. 'Readings' are not intended to indicate ALL that you are supposed to read each week. The top TWO – THREE are what will get you into the discussion so try and read them, all of them available online.

Week 1: Course Introduction

4 items

History and International Relations - Andrew Williams 2017

Article It would be very helpful if you could read this piece that I wrote to get some idea of the links that exist between International History and IR. I would also like ALL of you to do some preliminary reading for your coming work assignments.

There will be NO TUTORIALS this week BUT there will be:

Library meeting - to be shown what the Library has by way of primary materials, to get advice on different kinds of evidence and what may be available on-line and elsewhere in Scotland and the UK, etc. Follow the link below to view the library guide designed for this module.

Individual meetings - the idea is that you start to think about what you would like to write about in your ESSAYS. Be as inventive as you like at this stage, hence I advise you to start reading round possible subjects.

Week 2: Key Themes in IR and IH: War

13 items

Readings (ALL to read material down to chapter in Kaldor)

5 items

New & old wars - Kaldor, Mary 2006

Book Chapter 1, 'Introduction' (digitised).

Week 3: Case Study: Wars in the Middle East (esp. 1917 - 1947)

11 items

Readings (ALL to read MMS material and Fawcett)

2 items

The Question of Palestine - United Nations

Webpage Various documents on The Status of Jerusalem, The Balfour Declaration etc.. All available on MMS, plus UN sites like this one.

International relations of the Middle East - Fawcett, Louise L'Estrange 2009

Book Part 1 'Historical Overview', especially chapter 1, ''The Emergence of the Middle East in to the Modern State System', pp. 17 - 40 (digitised).

Week 4: Key Themes II: Peace

13 items

Readings (ALL to read IHIR + online material)

4 items

I will also (try!) and show a propaganda film (Imperial War Museum) during the lecture on the aftermath of war in Germany in 1946, 'A Defeated People'. What themes are there and how do they relate to current concerns in IR?

Anything by Ceadel, Martin, such as:

Week 5: Peace Case Study: The Balkan Wars of the 1910-14 and 1991-94

9 items

Readings (ALL to read online material)

1 item

To end a war - Richard C. Holbrooke 1998

Book Especially chapter on the lessons of history, the 'Rebecca West Effect', etc. Chapter 2, 'The Greatest Collective failure ...', pp. 21-33.

6. INDEPENDENT LEARNING WEEK (NO CLASSES)

Week 7: Key Themes III: Empire

9 items

(esp. the decline of the British Empire)

Readings (ALL to read chapter in IHIR + Joanna Lewis)

2 items

Week 8: Key Themes IV: States and Sovereignty

2 items

Readings (ALL to read IHIR + Tilly)

2 items

Week 9: Case Study: (New World?) Order

10 items

Readings (ALL to read Williams, 2007, Watson, 1984 and Osiander, 1994)

3 items

Week 10: Humiliation: The Ghosts of the Past

7 items

[n.b. there are lots more references in the notes to these papers] Everyone to read:

The French Rats and the Sinking Ship - J. R. Johnson 1944

Article A contemporary take on France's humiliation of 1944 is not uncontroversial. (n.b. who was 'C.L.R. James'?; what political tendency did he represent?; what is he talking about?)

Week 11: Charles de Gaulle, Military and Political Activist

1 item

Week 12: Conclusions

1 item

There are NO tutorials this week. But ALL to have individual discussions on Paper 2 if you have not already done so.
All rights reserved ©
Profile Required
Reading intentions and notes are stored against your user profile. Please create a profile to use this feature.
My notes
You must be logged in to add a note
What are item notes?
You can use item notes to make personal notes on any of your reading items. Notes are private to you and will not be shown to other users.
You can review your item notes from the list, the item page or from your profile page.
---
How do I create an item note?
To make notes, first you must be logged in. Once logged in, simply click Add note? next to the list item you wish to make notes on. You can also make notes at the bottom of every item's detail page.
Your note will be saved automatically as you type.
Have you read this?
You must be logged in to set a reading intention
What are reading intentions?
Setting up reading intentions help you organise your course reading. It makes it easy to scan through your lists and keep track of progress. Here's an example of what they look like: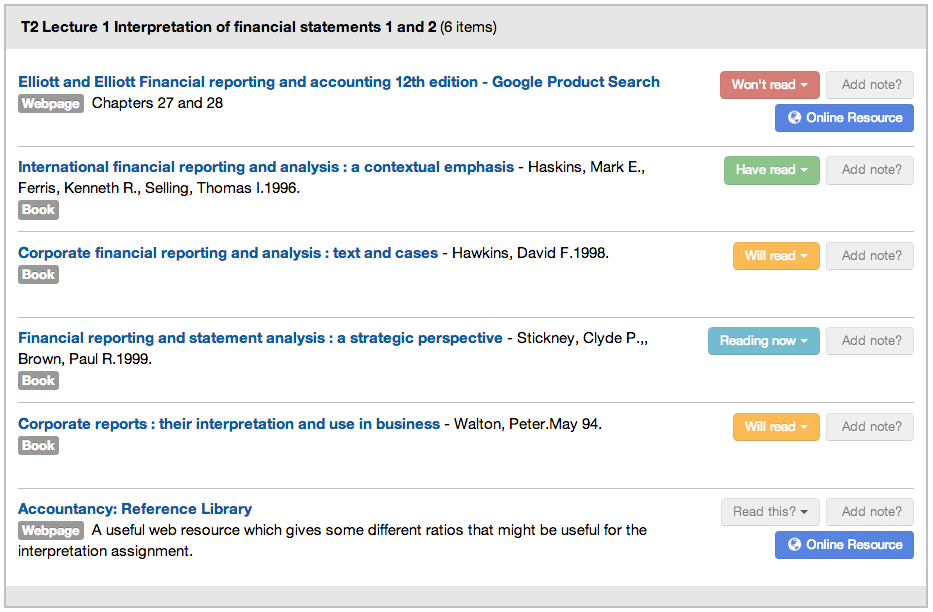 Your reading intentions are also stored in your profile for future reference.
---
How do I set a reading intention
To set a reading intention, first you must be logged in. Once logged in, click Read this? next to the list item you wish to set a reading intention for.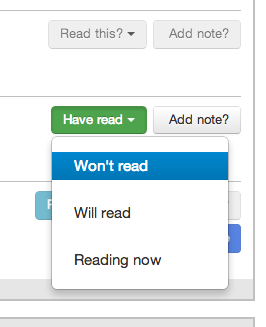 You can also set the reading intention from every item's detail page.