This list relates to the 2016-17 which ended on 31/07/2017
This list has been archived
Lecture 1 – What is economic anthropology?

9 items

At its most basic, economics can be seen as the study of the relationship between people and objects as occurring through production, circulation, and consumption. Most of the theories which comprise the modern field of economics were developed to describe Western capitalist systems. Earlier this century, anthropologists began to use their cross-cultural studies to question economic assumptions about human behaviour. In this lecture we will look at Malinowski's foundational study of the Kula gift exchange among the Trobrianders to consider how economic anthropology is different from economics. What is 'the economy'? How have anthropologists analysed economic life in non-capitalist settings? And how can we understand the relationship between culture and economics?

Required readings:

4 items

Essential extracts from Argonauts of the Western Pacific are also available in the following book:

Supplementary readings:

5 items

Lecture 2 – Consumption of Oil and the American Dream

8 items

Since oil was first struck in 1859, it has enabled and defined our economic, social, and political landscape across the world. In its transformation of how we go about our daily lives, oil has become the single most consumed commodity and our consumption continues to rise. However, the idea that the mass consumption of oil was foundational to a particular way of life did not emerge 'naturally'. Anthropologists have shown how in the US during the Great Depression this particular understanding was produced out of a wider set of struggles and crises related to capitalism. In this lecture we will look at what anthropological theories of consumption can tell us about how objects become such uniquely desirable commodities. What is the relationship between oil and culture? What is so particular, spectacular or mythic about oil? And in what ways has it become fundamental in shaping our collective imaginaries of the world?

Required readings:

2 items

Supplementary readings:

6 items

Lecture 3 – Production of petrodollars and commodity fetishism

9 items

The production of oil gives rise to enormous wealth. In some countries, such as Venezuela and Norway, oil production is closely tied to national social welfare agendas, whilst in others it is an overtly messy and conflict-endorsing venture. The staggering influx of oil monies often readily captures people's imagination and gives rise to intense associations of petrodollars with freedom and opportunity, if not domination and doom. For many, it becomes a 'fantastic form' that seems capable of generating certain outcomes in and of itself, as if the petrodollar had a life of its own independently of the process of production. For anthropologists, this kind of commodity fetishism provides a vantage point from which we can see not only how petrodollars and other monies contribute to social integration and disintegration, but also how economic life is intertwined with cosmological understandings. What is the value of money? How is it determined? And why does it seem so urgent in economies that are premised on natural resource extraction?

Required readings:

2 items

Supplementary readings:

5 items

Film – A Crude Awakening: The Oil Crash.

2 items

2006. Basil Gelpke and Ray McCormack. Artificial Eye production. 82 mins

We wrap up with a film that ties together many of the ideas we have encountered this week and signals some of the topics we will discuss next week. This documentary explores the implications of cheap oil running out – implications for our economies, ways of life, and various kinds of valuations.

From the distributors' description: "A shocking wake-up call that is set to do for energy what Al Gore's 'An Inconvenient Truth' did for the environment, 'A Crude Awakening' is an urgent warning that the age of abundant oil is over. Featuring testimonies from the world's top experts, this startling documentary reaches an ominous yet logical conclusion – the Earth's oil supplies are peaking, threatening our ill-prepared, fossil-fuel addicted civilization with a crisis of global proportions. Highlighting the critical need for sustainable alternative energy sources, Basil Gelpke and Ray McCormack's startling documentary is an intelligent and utterly compelling call to action".
All rights reserved ©
Profile Required
Reading intentions and notes are stored against your user profile. Please create a profile to use this feature.
My notes
You must be logged in to add a note
What are item notes?
You can use item notes to make personal notes on any of your reading items. Notes are private to you and will not be shown to other users.
You can review your item notes from the list, the item page or from your profile page.
---
How do I create an item note?
To make notes, first you must be logged in. Once logged in, simply click Add note? next to the list item you wish to make notes on. You can also make notes at the bottom of every item's detail page.
Your note will be saved automatically as you type.
Have you read this?
You must be logged in to set a reading intention
What are reading intentions?
Setting up reading intentions help you organise your course reading. It makes it easy to scan through your lists and keep track of progress. Here's an example of what they look like: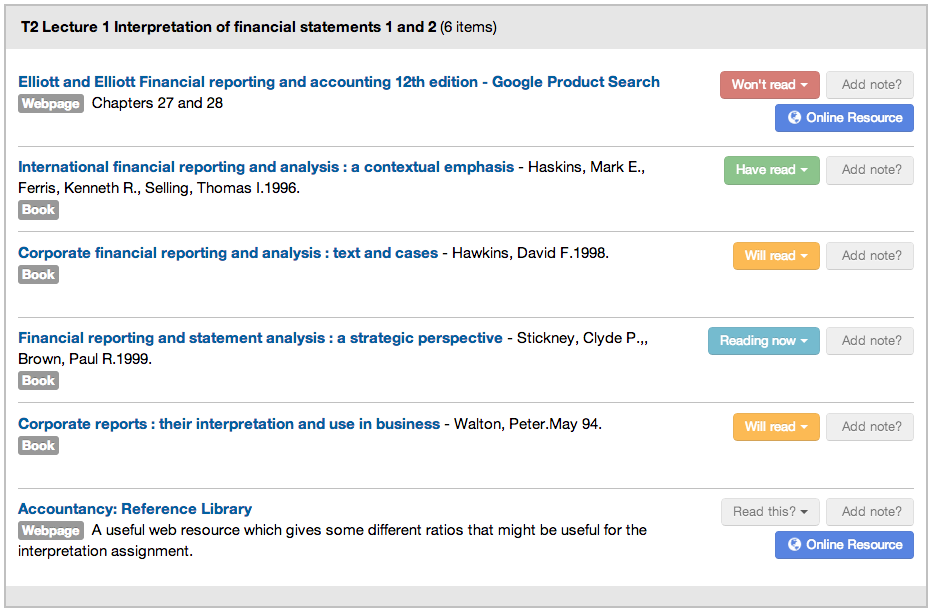 Your reading intentions are also stored in your profile for future reference.
---
How do I set a reading intention
To set a reading intention, first you must be logged in. Once logged in, click Read this? next to the list item you wish to set a reading intention for.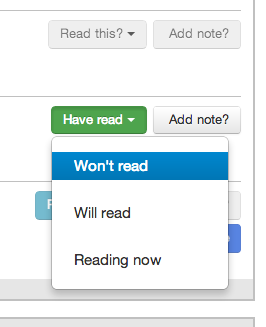 You can also set the reading intention from every item's detail page.